606 words (breadcrumb-like navigation can be unreliable due to the unstable--and sometimes delicious-- nature of the trail marker)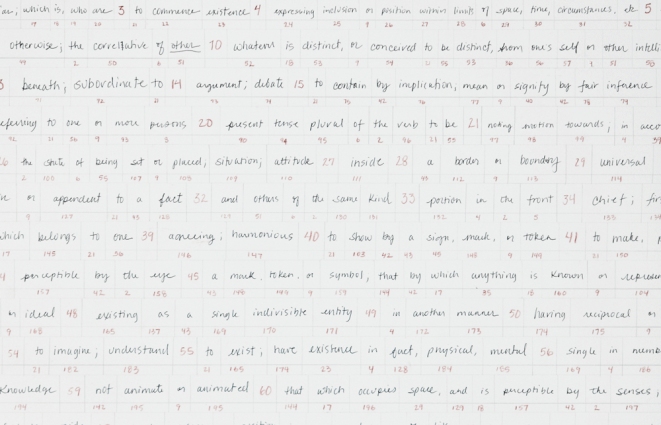 606 words (detail)
In order to comprehend the definition of any given word, the meaning of the words used to define it must be understood.

I began this drawing by transcribing the dictionary definitions of 3 words (not revealed to the viewer) at the top of the page. Each word in the definition is assigned a number (in red below the word). I then proceed to look up each word used in those dictionary entries, writing down these definitions, and so on, until no more words can fit on the drawing page.

But the resulting drawing, with an arbitrary system and limitations defined by the size of the paper, ceases to provide any specific knowledge and instead becomes an intricate, systematic composition of lines.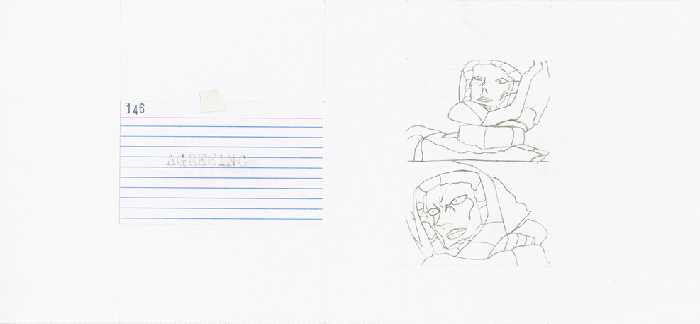 146: agreeing
rust/dirt, ink on index card & graphite on paper
6 x 24 in
In order to track each word, and avoid duplication, each new word written on the "606 words" drawing is stamped on an index card (using an alphabet die stamp punch set) along with its assigned number, indicated in the upper left corner of the card.

Taken as a whole ordered set, the cards spell out the text from the "606 words" drawing. Taken individually, a single card implies a fragment of a great whole, the number indicating a sequence and the word taken out of the context of a sentence or paragraph.

I entered each word into the Google image search engine and took the Google image that corresponded to the number on the card as the basis for a small drawing. The 606 image/card pairings reflect myriad approaches to visualizing a word—there are images that are humorous, elegant, abstract, non-sensical, mysterious, familiar and banal.