a futile attempt to avoid geometry (in the pines)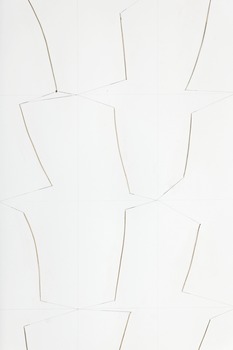 36 pine needles (detail)
ongoing collection
pages of pine needles
pine needles, graphite, matte medium
I collect the pine needles that fall to the ground outside my studio, arrange them in grids of 36 that are adhered to paper and draw lines between each to form a pattern. I currently have nearly 200 pine needle drawing tiles. They can be installed in various configurations.

The central question in this undertaking is:
x number of pine needles = a pine tree, therefore x=?
While a this is a perfectly reasonable curiosity, it will result in a different answer every time because each pine tree is different and constantly changing.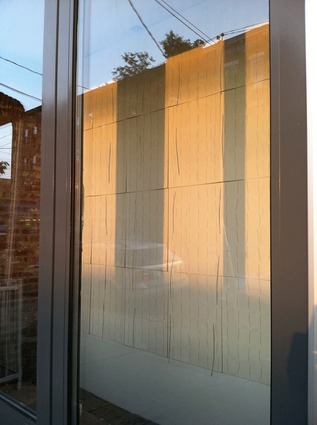 1,164 pine needles
site-specific installation
OnView: 305 VanBrunt storefront gallery
Red Hook Brooklyn, June 2011
For this site-specific installation of the pine needle collection, I papered the back wall of the window-front gallery with pine needle pages. I then adhered pine needles in a grid directly on the window glass so the viewer would be looking through a pattern of pine needles to the collections on the wall.